At NJEDDA our mission is to advance the independence and to enrich the quality of life of individuals with disabilities by providing opportunities to challenge themselves to learn and grow emotionally and functionally in educational, therapeutic and vocational environments within an atmosphere of acceptance.
William G. Weiss, Ed.D
Executive Director
Dolores W. Miles, B.S.
Business Manager
Jennifer A. Miller, M.Ed
Principal Elementary School
Marianne Idenden, M.A.
Vice Principal Elementary School
Nancy Fegan, M.A.
Vice Principal, High School
Mary Fischer, M.A.
Supervisor of Instruction High School
Stephanie Richvalsky, M.A.
Director of Adult Services
Lynne Delohery, M.S.W.
Social Worker, ATC
Established in 1947, The North Jersey Elks Developmental Disabilities Agency (NJEDDA) is a private non-profit organization operated by a volunteer Board of Trustees comprised of representatives from local Elks Lodges (Paterson, Fair Lawn, Pompton Lakes, Clifton, Passaic Valley, and Wayne) and other concerned citizens.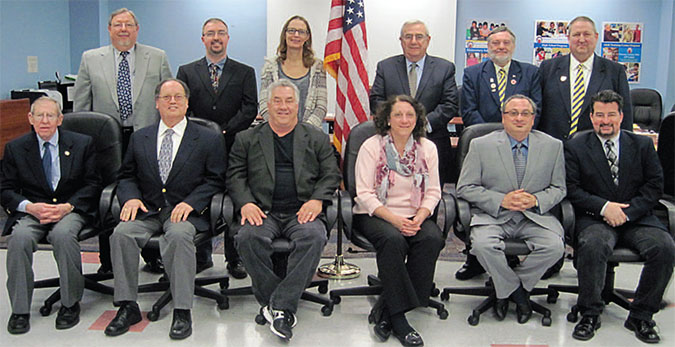 BACK ROW: Nicholas Trentacoste, Gary Margiotta, Lisa Szegedi-Greco, Anthony Fiorello, Keith Oakley, James Van Leuvan. FRONT ROW: John Lindsay, Ernie Canali Jr., David Kalish, Mary Anne O'Brien, James Bradley, Frank Tiernan. NOT PICTURED: John V. Galletta, William Millan, John M. Szczomak, Harry Pollaro.
Board Officers
David Kalish, Chairman
Ernest P. Canali, First Vice-Chairman
James Van Leuvan, Second Vice-Chairman
James Bradley, Secretary
Harry Pollaro, Treasurer
Board Members
Anthony Fiorello
John V. Galletta
John Lindsay
Gary Margiotta
William Millan
Keith Oakley
Mary Anne O'Brien
John M. Szczomak*
Lisa Szegedi-Greco
Frank Tiernan
Nicholas Trentacoste
*Financial Consultant
For nearly 150 years, Elks Lodges across the country have been striving to address unmet needs, and supporting their communities though programs that help children grow up healthy and safe, including those that offer services, medical care, research, education, and therapies. Today, there are more than 850,000 member and more than 2,000 Elk Lodges nationwide.
The New Jersey Elks have a long history of service to the community. Through their philanthropic work, they support our agency along with Elk's Camp Moore, providing camp scholarships for children. We are proud to have the men and women of the Elks supporting our staff to help our students reach their fullest potential.