Your caring and generous support for of our programs helps us to provide high quality educational services, therapeutic treatment and vocational training for children, adolescents, and adults with developmental disabilities.
There are many ways you can help. Please consider contributing to NJEDDA today.
Talk with us about more ways to give.
If you would to like to speak with NJEDDA regrading contributions, becoming a corporate sponsor, making matching contributions, or arranging planned giving, please call us at 973-772-2600.
We would love to hear from you!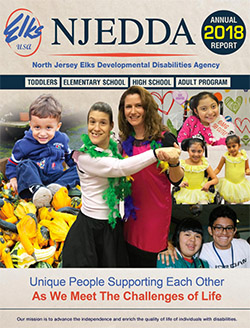 NJEDDA's 2018 Annual Report
Our 2018 Annual Report is available. The report contains information about NJEDDA's current programs and activities, leadership and governance, and business information. CLICK HERE to open a flipable online version of our report.
NJEDDA Receives $20,000 Technology Grant from The UPS Foundation
NJEDDA schools and adult center received a $20,000 technology grant from the UPS Foundation to add addition computers, I-Pads, cameras, and projectors. The teachers and therapists will use the equipment to increase the academic and communication skills of our students and adult clients. We are grateful for the support from UPS staff!