Have a Child or Adult With Special Needs? We Can Help!
We Teach Skills and Enhance Their Independence and Quality of Life.
Unique people supporting each other as we meet the challenges of life...
We don't look at a
person's disabilities.
We look at what
they CAN DO!
Watch Our School Video Now!
Support NJEDDA Now!
Your support for of NJEDDA helps us provide high quality educational services, therapeutic treatment and vocational training for children, adolescents, and adults with developmental disabilities. Please consider contributing today!
I'm very happy with the school and thankful to the staff because I am witnessing my grandson becoming more independent. The staff does a wonderful job with him!

I have been coming to the Center since May 1996. I am very happy to be here. The physical and occupational therapies have made me stronger. I have learned to keep in touch with family and friends through Facebook and email and have had opportunities to visit them. I enjoy volunteering in the community. I love the people, they are all very nice.

My son, Xzavier, has been involved in the therapeutic horseback riding program at NJEDDA and we both love it! Whenever, I show him his medal his face lights up with a huge smile. The program has been OUTSTANDING and immensely beneficial for him. We can't wait for the next school year to do it again!

My son Daniel had been attending the Toddler Playgroup for the past few months. Seeing my son in an environment that is safe and allows him to be engaged and unwind in a variety of activities makes me feel very happy. Daniel is able to play with his peers better and adhere to the structure of the group. It really has been a blessing to be able to participate in this toddler group with him. It feels like we are part of a family.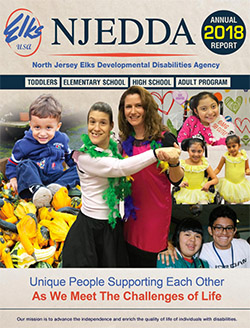 NJEDDA's 2018 Annual Report
Our 2018 Annual Report is available. The report contains information about NJEDDA's current programs and activities, leadership and governance, and business information.
CLICK HERE to open a flipable online version of our report.
We have staff that speak English,
Spanish, Arabic, Turkish, Polish
and Russian!